Everyone has heard of Fitbit. There's even a good chance you know someone who wears a Fitbit fitness tracker. And that's exactly what they do: track fitness.

These sleek wearables have come a long way since the first Fitbit device hit the market in 2009, now boasting a range of powerful features that monitor key aspects of our health: heart rate, calories, respiration, stress, sleep, blood oxygen - you name it.

Technology is impressive, right?

So it's not out of the question to wonder whether these advanced fitness trackers can measure blood pressure (see also 'Do Fitness Tracker Blood Pressure Monitors Really Work?'). The short answer is no, Fitbit fitness trackers do not measure blood pressure.

But there's more to it than that.

This guide runs through why Fitbit devices do not measure blood pressure, what health metrics Fitbit devices can measure, and the best Fitbit devices worth talking about.

If you're on the fence about buying a Fitbit fitness tracker, well… you should probably keep reading!
Why Is Blood Pressure Important?
First, why is blood pressure so important?

Blood pressure might seem like a complicated topic, but the term almost explains itself. It is the pressure that blood puts on the artery walls as the heart pumps it through the arteries.

Blood pressure can be low or high, measured in mmHg (millimeter of mercury), across five main blood pressure ranges.

We won't go too far into it, but low blood pressure can cause dizziness and fatigue while high blood pressure can cause chest pain and difficulty breathing.
The causes vary, but both conditions are serious and can even be life-threatening.

Blood pressure is typically measured using a blood pressure machine. A sphygmomanometer, if you want the long term.
This instrument involves an inflatable cuff connected to a barometer column, which measures systolic and diastolic pressure by increasing and releasing pressure in the cuff to produce a blood pressure reading.

And that swiftly leads us onto the next section.
Can Fitbit Measure Blood Pressure?
If you read the paragraph above, blood pressure machines sphygmomanometers are pretty techy.

There's an inflatable cuff, a pump, barometer column - too much to sling around on your wrist, needless to say.

So the answer is no - Fitbit does not measure blood pressure.

The fact that blood pressure is measured using a cuff that straps around the upper arm (not the wrist) is another reason why Fitbits do not measure blood pressure.

Despite that, wrist blood pressure monitors exist - something you might already know. But whether wrist blood pressure monitors are accurate is another question.

For the most part, though, the most accurate blood pressure measurements are taken using sphygmomanometers. And so far, implementing this tech into a wrist wearable is, well still being worked on.
Why Can't Fitbit Measure Blood Pressure?
Fitbit devices do not measure blood pressure. But it's not a design choice; Fitbits can't measure blood pressure.

Sphygmomanometers, which are used to provide the most accurate blood pressure readings, involve too much hardware to pack into a wrist wearable - at least for now.

Fitbit can attempt to implement a basic blood pressure reading feature on its devices, but the fact is that it just won't be that accurate.

As a result, you won't currently find a Fitbit device that measures blood pressure.

But, hey, that doesn't mean that this won't be a real thing in the future!
Fitbits Can Measure Heart Rate
The good news is that Fitbits can measure heart rate.

Heart rate is not the same as blood pressure, and this is a common mix-up that can be the reason why some people assume that Fitbits can measure blood pressure.

In fact, heart rate monitoring is one of the most popular features of Fitbit fitness trackers.

Heart rate can indicate a number of important things, from general health to stress and excitement levels.

So, if you were disappointed to find out that Fitbits can't measure blood pressure, heart rate tracking might be a feature—and benefit—that interests you just as much.
Blood Pressure Vs Heart Rate - What's The Difference?
Blood pressure and heart rate. The two terms can be confusing - and are even sometimes used interchangeably.

Wouldn't it be great if someone explained the difference without all the jargonese?

We've got you covered.

Blood pressure is the pressure that blood exerts on the artery walls as the heart pumps blood through the arteries, measured in mmHg (millimeter of mercury).

Heart rate, also known as pulse, is the total number of times the heart beats every minute, measured in BPM (beats per minute).

So the terms are related, but measure different things.

And if you've ever measured your own heart rate by counting your pulse, Fitbit devices do this for you - constantly.

As talked about above, though, Fitbits (currently) cannot measure blood pressure. It's just too much tech to strap on your wrist, unfortunately.
Fitbit Health Tracking Features
So what else can these snazzy wrist wearables track health-wise? While Fitbits might not be able to measure blood pressure just yet, they can measure a lot of other important things.

And aside from heart rate, these include:
Distance (GPS)
Steps
Calories
Sleep
Snoring
Stress
Breathing rate
SpO2 (blood oxygen)
Readiness score (energy levels)
Menstrual health tracking
That's a lot of health tracking. Some might even think it overwhelming.
But if you're curious to know how healthy you are currently, or want to use this data as a starting point to make healthy improvements, these devices can offer a host of life-changing benefits.
It should also go without saying that you don't have to track everything; it's possible to use Fitbits to track the features you're interested in and ignore the rest.
Other Features of Fitbit Devices
Aside from fitness tracking, what else can Fitbits do? Fitbits aren't just used for health and fitness. They are also fashionable and functional, with smart features that include:
Notifications
On-wrist Bluetooth calls
Find My Phone
On-wrist payments
Fast charging
Fitbit devices can also tell the time and date (if you need to change the time on a Fitbit, read here).
Joking aside, Fitbits are mostly water-resistant (up to 50 meters), compatible with modern phones, and fully customizable, offering a range of different clock faces to choose from.
As for battery life, you can expect to get at least one week of continued use from most recent Fitbit devices.
Fitbit Models - The Differences Explained
FYI: not all Fitbit devices have the above features, which makes it a good idea to weigh up the benefits of each device before grabbing your wallet.

The Fitbit lineup includes a range of models and some of these you might have already heard of: Inspire, Ace, Charge, Flex, Luxe, Versa.

Needless to say, it can be confusing to choose one. The one that's best suited for you, that is.

There are, in fact, two kinds of Fitbit devices: trackers and smartwatches.

Fitbit trackers are designed for all things fitness tracking. Fitbit smartwatches, on the other hand, offer the same fitness tracking features of its tracker lineup, along with the innovative functionality of a smartwatch.

At a glance, the Fitbit Ace, Fitbit Inspire, Fitbit Charge, and Fitbit Luxe are part of the tracker lineup - the most advanced being the Charge 5.

As for Fitbit smart watches, this lineup includes the Fitbit Versa and Fitbit Sense - the most advanced being the Fitbit Sense.
Should I Buy A Fitbit?
Undecided on whether to invest in a Fitbit?

Whether or not you were looking for a Fitbit device that measured blood pressure (they don't), there are other reasons to chuck your cash at these sleek, popular wearables.

And it all comes down to three things: health and fitness tracking, smart functionality, and, well, fashion.

If you want to monitor various aspects of your health, receive notifications and make payments from your wrist, and maybe up your fashion game with a brand new digital watch (with different designs and straps to choose from), these are all good reasons to invest in a Fitbit.

If only two of these apply to you, that's still enough to make considering a Fitbit device worth it.

Above all, the main selling point of Fitbit wearables is health tracking. And that doesn't mean that Fitbits are only for the fit and active.

Even people who do not consider themselves fit and active wear Fitbits to track steps, heart rate, sleep, and more.

Others just wear Fitbits because, well, they think they look fashionable.
The Best Fitbit Devices 2022
Last but not least, the best Fitbit devices to buy in 2022.

If not being able to measure blood pressure hasn't stopped you from wanting to buy a Fitbit, we've rounded up the best Fitbits on the market right now to help you pick up the right Fitbit for your money.
The Fitbit Inspire 2 was released in 2020. Despite that, it's still one of Fitbit's most popular models thanks to its slimmed-down design, price, and beginner's appeal.
It features all the fitness tracking basics, making it a great choice for first-time Fitbit users and those who want a more streamlined, less conspicuous device at an affordable price.
Fitbit Inspire 2 Pros
Slim design
Tracks heart rate, sleep, steps, calories, breathing, and more
Swimproof
Customizable strap
Affordable
Most battery life (10 days)
1-year Fitbit Premium membership
Fitbit Inspire 2 Cons
No built-in GPS (connected GPS only)
No color touchscreen
The Fitbit Charge 5 is, you guessed it, the fifth release in the Charge lineup, released in 2021.

Think of the Charge 5 as a slightly wider, more advanced Inspire 2, with bonus features that include a color touchscreen, ECG assessment, SpO2 readings, high and low heart rate notifications, and a built-in GPS.
Fitbit Charge 5 Pros
Slim design
Color touchscreen
Tracks heart rate, sleep, steps, calories, breathing, and more
Built-in GPS
ECG assessment
SpO2 readings
Swimproof
Customizable strap
Fitbit Charge 5 Cons
No fast charging
6-month Fitbit Premium membership only
The Fitbit Sense, which hit the market in 2020, is considered to be the most advanced Fitbit device.
It's a fitness tracker and smartwatch, boasting the most features of any Fitbit wearable - so far.

If you want the best Fitbit out there and don't have a limited budget, the Fitbit Sense is pretty much the one to look at.
Fitbit Sense Pros
Large color touchscreen
Tracks heart rate, sleep, steps, calories, breathing, and more
Swimproof
Customizable strap
Fast charging
Voice assistant
On-wrist Bluetooth calls
Stress notifications
Built-in GPS
Fitbit Sense Cons
Most expensive
Least battery life (6 days)
6-month Fitbit Premium membership only
The Short Answer
Looking for the short answer? Well, here it is: Fitbits do not measure blood pressure.
Fitbit devices can't provide accurate blood pressure readings, simply because the required hardware is not (yet) possible to implement on a wrist wearable. And there you have it.

But despite that, Fitbits can track heart rate, blood glucose, bloody oxygen levels, and more.
These are just as important to track as blood pressure, which makes Fitbits a worthwhile investment for those who want to monitor and improve their general health and fitness.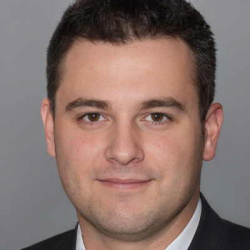 Latest posts by Garrett Jones
(see all)