Smartwatches are all the rage currently, more and more people collecting them for their ability to track your movements, monitor your fitness and organize your day. You can link them up to your phone and use them to help you play your music or podcasts when you are commuting to work.
But one common problem that both men and women find is that they can't find the right size of a smartwatch for their thick wrists.
This is a common problem, with many users finding the strap on their watch very itchy, chafing the inside of the wrist and causing much irritation to the point where they cannot wear the watch at all.
If your wrist has a circumference that measures over 7-inches, then you might be having problems picking up the ordinary watches on the market.
For this, you might find yourself having to fashion your own straps or buying larger ones, only for you to find out that they do not fit your current model.
So where can you find a wristwatch for a larger wrist? What materials will a thicker wrist watch need to be made from? What features will a decent wristwatch need to have to give you a solid and durable performance? How much will you be paying for one of these handy little devices?
Well, if you are someone who has larger wrists, then you should not fret, because we have compiled a list of some of the best wristwatches for larger wrists currently on the market. We're measuring them up in terms of size, thickness and reliability.
When you have finished reading this list, you'll have a better idea of what products are out there.
10 Best Smartwatches For Big/Large/Thick Wrists
This first galaxy watch is one of the best when it comes to affordable watches that still come with a lot of the features that you might find in other more expensive watches.
This comes with a big sporty build that you can use during very hardcore sporting activities - introducing the Samsung Galaxy Watch.
This watch comes with a very chunky design, making it perfect for battering around, giving you everything that you need for a sports watch.
This is perfect for use throughout the course of the day, with decent battery life and a whole host of features.
This watch has been certified as being able to resist scratches and water-damage.
Pros
This watch is one of the best for multi-disciplinary sporting events. This watch is hardy and can withstand most of the elements.
This watch is great for people who like to hit the gym and monitor their stats like heart rate or step count. We would certainly recommend this watch for people who take their exercise seriously.
This comes with many features that you might find on other expensive watches. So if you are wanting to cut some costs and save yourself a few dollars, you can't go wrong with this model.
This is perfect for wearing during most occasions, whether it is a night at the office party or taking the kids to the pool.
Cons
Some users have claimed that the Bluetooth on this wristwatch is not one of the best, so if you want that instant connectivity, you might want to hunt for another model.
This next smartwatch is more of a fitness tracker than a smartwatch, but it does come with some amazing smartwatch features.
This is great for people with thick wrists, as it comes with a decent size of around 9-inches, which could be described as a moderate or intermediately thick wrist - introducing the Fitbit Versa 2 Health and Fitness Smartwatch.
This smartwatch comes with a larger strap size that can be adjusted for whatever wrist thickness that you have, although some people have complained that it does not accommodate the extra-large wrist thickness of around 10-11-inches.
This smartwatch will also give you around 6 days of battery life on one single charge.
Pros
This is both water and rust-resistant, making it the perfect item for anyone who is looking for something to take diving with them.
This can charge very quickly. Within 12 minutes you will get a full charge. This is ideal if you want to get going very quickly with a watch that charges fully.
This comes with an improved resolution display, which is again perfect if you are working out and you need to see your time or heart rate with perfect clarity.
This battery will last you up to 6 days on a single charge, making it great for anyone who likes to take their smartphone out on long adventures far away from a powerpoint.
Cons
This will not accommodate the wrist size of larger folks, so you might want to measure your wrist to see if you hit the extra-large wrist bracket.
This next watch certainly isn't that suitable for anyone who would describe themselves as having a normal wrist.
This comes with plenty of features that will help you to monitor where you are, including a GPS connector that will help you to zone in on where you are, as well as giving you great directions - introducing the Huawei Watch GT 2 Pro Smart Watch.
Pros
You can take this watch on as many runs as you need to, it won't get damaged by the repetitive jiggling or any hard impacts.
This watch comes with a very durable strap, which will not break or get cut off when you are on the road.
People use this watch for golf, cycling and swimming, as it will give you everything that you need for tracking and keeping the score of your heart rate.
This smartwatch has a great storage capacity, giving you everything that you need for a solid performance and plenty of app space.
Cons
This has a silicone band that some users have complained really rubs against their wrist. Again, we would always recommend that you measure your wrist before purchasing your smartwatch.
This next wristwatch is one for people who have thicker wrists and just want the basic design of a watch.
This is perfect if you want something that you can use to call your mom or monitor the weather.
You can also record your steps and monitor your heart rate, it will also tell you the time in any part of the world - introducing the Full Touch Screen Smartwatch Fitness Tracker.
Pros
You can monitor your sleep rate as well as your pulse with this watch, making it one of the best that you can get for fitness.
This is a very reasonably-priced watch, so if you want to pinch the pennies as well as have optimum tracking features, then we would certainly recommend this watch.
This comes with various different sport levels, allowing you to adapt your tracking for running, athletics and swimming. This watch has a moderately waterproof level.
This comes with a very decent battery life, so you won't have to worry about your watch giving up on you when you are away from a charge point.
Cons
This is another watch that might not be able to reach fully around your wrist, so be sure to measure it before you purchase.
Our final model of watch is something that is ideal for both men and women, as the latter can also suffer from having a watch that does not fit entirely around their wrist.
This watch comes with a cool camera with the ability to control every aspect of your phone - introducing the Fitness Tracker with Heart Rate Monitor.
Pros
This watch comes in 8 different sports modes, including running, cycling, swimming and jogging. You can find a setting for every need.
This comes with 10 days of battery life, so you won't have to worry about running to a charge point to get your smartwatch back in action.
This comes with a high-definition smart screen that you can use to track all of your movements, including heart rate, pulse and steps.
You can get this in a wide range of colors, which is great if you want to personalize your smartwatch to your office outfit or sports apparel.
Cons
This might still be a little too small for anyone with an extra-large wrist. If you can, try and get the measurements of this watch before you commit to a purchase.
Buyer's Guide
Having a big wrist might not be something that you have considered before, but you should always be sure that you are measuring your wrist before buying your next smartwatch.
A larger wrist will be something that is around 9-11-inches in diameter. Here are a few things you'll be looking for in a larger smartwatch:
What Is The Smallest To The Largest Wrist?
Thin wrist measures somewhere between 5 and 6 inches, whereas the largest wrist that you can get measures around 9-11-inches. The standard size wrists are around 6-7-inches, which is what most watches are adapted for.
How Many Features Does Your Watch Have?
You'll want to make sure that you have plenty of features to justify the price tag. You should be looking for timekeeping features that are quite advanced, like millisecond counters and times from around the globe.
A decent smartwatch will also have the ability to monitor your heart rate as well as your blood pressure.
Is It Good For Fitness?
A lot of these smartwatches certainly have plenty of fitness devices that you can be sure will give you everything that you need to track your improvement, which is so important for getting better health.
Frequently Asked Questions
Should You Get Replaceable Straps?
Ideally, you'll get a watch that comes with multiple straps that you can alter to get a snug and comfortable fit on your wrists.
A lot of the materials like leather might chafe too much or cause sweat buildup between your watch and your wrist. You'll want a comfortable material that will get rid of sweat and give you plenty of flexibility.
Our Final Say
We hope that our list of some of the best smartwatches for larger wrists has given you a better idea of the kind of watch that you'll be needing for your wrists.
You should always make sure that you're measuring your wrists before you buy your watch, as it might be difficult to determine the difference between large and extra-large wrists.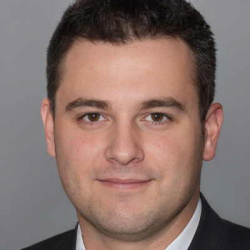 Latest posts by Garrett Jones
(see all)