If you happen to glance at people's wrists today, chances are many will have a shiny device strapped to their arm that keeps taking their attention.

Watches today offer a variety of uses. Gone are the days when a watch was simply used to tell the time.
In fact, it's true to say that many people rely on their smartphones to tell the time and basic watches are becoming less and less popular. Many people are replacing them with the modern, super smart watches available today.
What Is A Smartwatch?
A smartwatch is a device you wear on your wrist that basically makes your life easier. It's like taking a mini PC around all day and night. Smartwatches only became available in 2010 when tech companies started making watches with the ability to act like smartphones.
Companies began producing watches with more robust materials and more optimized sensors for accuracy. What do they offer?

Most watches will sync with your smartphone and be able to send notifications to the watch. This handy feature means you won't miss important messages as you will be alerted via the watch.
You can often answer them through the watch, so no need to reach for the phone. In addition, smartwatches usually work with an app that combines features for specific purposes.

Why Buy One?
Fitness tracking is one of the most popular reasons people purchase smartwatches. Those who take their health seriously can manage and track a fitness program that suits them and set goals and accurately monitor their progress.

Another unique feature of the smartwatch is GPS tracking, this is very useful when tracking activities such as running as it works with software to show you exactly where you went and what you achieved.

iTouch smartwatches are a great option for those on a budget. They are attractive and affordable, and not dissimilar to their Apple and Samsung Watch counterparts. They come in several colors and have a plethora of features that you would expect to find in a more expensive version. What features should you look for in a budget smartwatch?

iTouch watches will differ in what they offer, however expect to find the following as minimum:
Pedometer
Calorie tracker
Stopwatch
Weather
Remote music
Camera
Alarm
We've collected a few of the best iTouch watches to review and compare, so without further ado let's get reviewing.
The iTouch curve is a super cheap smartwatch with modern functionality and a classic round design. The easy to navigate touch screen keeps you connected, whatever you're doing during the day.
It offers a great selection of colors and straps, so it can suit any style. This watch makes a fantastic gift for anyone who wants to dip their toes into the world of smart technology.
Fitness Tracking
The watch offers basic fitness tracking such as a calorie counter, pedometer, and sleep monitor.
The watch is perfect if you just need to keep an eye on your fitness levels and identify what you're doing and what you can improve.
It's not the most appropriate watch if you require an all singing and all dancing fitness tracker with complex features.
Watch Features
The watch is fully compatible with smartphones and offers full phone features such as a phone book for storing all your contacts, remote music when paired with a phone, notifications and a rechargeable battery.

The reviews for this watch are mixed and some have commented that the product is marketed as waterproof, but usage has proved otherwise.
It may be worth avoiding water based activities if you decide to purchase this watch.
This smart edition watch is stylish and attractive. The color options appeal to both men and women. You can also choose a different band depending on your taste and comfort.
Fitness Tracking
Achieve your fitness goals easier with the integrated features on this watch. Keeping track of heart rate is a great way to identify how your fitness is increasing or decreasing.
Furthermore, the watch has a sports mode that allows you to track 8 different sports.
Sleep Tracking
Getting a good night's sleep is essential for good health, but it can be tricky to know if our sleep is truly restorative or not.
Sleep tracking on this smartwatch can identify how much deep sleep you get, how long you are in REM and how many times you wake up.
This information can help you decide if you need to make any adjustments to your lifestyle in order to be better rested.
Watch Features
The Air SE connects to the iTouch app that is available for most smartphones. It's easy to receive messages and calls via the watch, and it can also connect to devices via Bluetooth and is GPS enabled.

User reviews are mixed for this product. Many comment positively on the length of battery life and that it is superior to many others on the market.
Some say it is excellent value for the price and has everything required. Most negative comments refer to problems with the app and difficulty pairing.
The iTouch Air has a beautiful, sleek design. The screen is vibrant and clear. It's made from durable material and is compatible with most modern smartphones. It has a formal look and would complement any style.
Furthermore, it's perfect for those with a busy and active lifestyle who want to achieve their fitness goal with a helping hand.
In addition, it is trendier than the SE version, and features include
Fitness Tracking
If you're a fitness enthusiast, then never miss a stat with this watch. It is compatible with most smartphones and will record all daily activities such as steps, distance walked, active minutes and heart rate.
In addition, it will send a notification to alert you when you haven't moved for a while.
The sports mode will keep track of all exercise and workouts, helping you to reach your fitness goals and increase motivation.
Sleep Analysis
The sleep tracker helps you understand how well you sleep and how long you stay in different stages of sleep, with an analysis to help you understand your sleep patterns.
Watch Features
When connected to your smartphone, the watch alerts you to calls and messages with sounds and vibrations that are fully customizable.
Furthermore, it is also GPS and bluetooth enabled.

There is also a timer function, alarm, and stopwatch as well as various other apps to help get instant information when needed.
It also has an outstanding battery life and can run for up to 30 days without recharging. It also works with all USB chargers, so it is easy to charge at home or on the go.

All in all, this watch is great value for money with features comparable to any of the pricier versions.
Reviews are mixed, some say it's comparable to an Apple Watch with great features, battery life and awesome design.
Some commented on the inability to get the watch working with the app. It would be helpful if it included a user manual.
The iTouch sport has a round clock face and is available in several colors, ideal if you aren't keen on the square design of the Air 3.
The strap, dial and screen is elegant and easy to wear for a modern and sleek style. Furthermore, the watch is fully waterproof.
Fitness Tracking
The fitness tracker is user-friendly and offers all the usual features. If losing weight is your current goal, the iTouch sport will assist you on the journey and track the calories you burn through daily activities.
The sports mode in this model has been updated, and you'll find it an efficient and effective way to record your exercise. The sport's mode includes:
Baseball,
Soccer
Football
Cycling
Running
Basketball
The watch also includes a body temperature tracker, so you can keep an eye on the heat generated from exercise. Furthermore, it keeps track of heart rate 24/7.
Watch Features
The sport 3 offers the usual features. If you need to time your runs, walks, or workouts, you can use the integrated stopwatch and timer.
In addition, there is an effective alarm you can set with a variety of sounds and buzzes to suit you.

You'll never miss an alert from your loved ones or the workplace with this watch that syncs with any smartwatch and alerts you to calls, messages and social media.
If your phone is with you, you can also use the watch to text and call. What's not to love?

Reviews are mostly good for this watch. Many are impressed with the supportive customer service.
Some comment on the watch being an affordable alternative to the higher range watches. Some were disappointed overall with some overheating issues.
The ultimate iTouch product, the Explorer is pricier than its predecessors, but it has a selection of extra features. The serious design is reminiscent of a Garmin watch, and its robust materials makes it a super durable option.
Fitness Tracking
The watch is able to continually monitor your heart rate, meaning you can find out how each period of activity has affected you, very useful in reaching optimum fitness.

The tracker can calculate distance covered every day and on specific runs.
It has a step counter and calorie tracker. In addition, the watch alerts you when you have not moved for a while, and it even reminds you when to hydrate and to wash just in case you forget.

It has a special sports mode like the others, but 10 instead of 8 that are:
Walking
Golf
Soccer
Tennis
Football
Baseball
Indoor cycling
Outdoor cycling
Hiking
Running
The watch also has an additional feature not present in the other products, for example, a relaxation mode that monitors downtime and sleep.
Watch Features
The watch has all the features you would expect in a smartwatch including a handy 'find my phone' feature, ideal if you are prone to misplacing your smart device.
In addition, you can receive messages and calls, and it offers remote music when synced with the phone.

The great thing about this phone is it is indestructible compared to the other watches.
The other products boast sleek design and beauty, but this watch is a beast and capable of withstanding anything thrown at it.
So, it's perfect for active people. It also comes in a variety of colors if you fancy adding a bit of style.
It's a definite improvement from their previous offerings, and this is reflected in the price.
For those who prefer a touch of the traditional, this hybrid iTouch connected offers the best of both worlds.
Its appearance is classical, and you'll look distinguished whilst retaining smartphone features.
Look great when paired with a smart jacket or formal suit. It's available in red, pink or black as well as a metal plastic strap.

It is made from durable material with a glass screen that is waterproof and can withstand dust and scratches.
Fitness Tracking
It has all the usual features to track your fitness levels such as pedometer, calorie counter and heart rate sensor.
Watch Features
Receive incoming calls and messages and connect to the iTouch app for full functionality. It also offers Bluetooth and GPS connectivity.
Reviews are great for this watch, with most commenting on the nice ascetics and accurate tracking.

So, if you want a good smartwatch that is affordable but effective, the above are the best we could find. Try them out!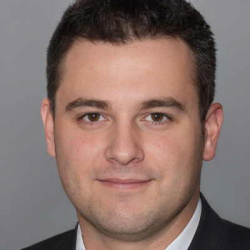 Latest posts by Garrett Jones
(see all)