If you happen to glance at people's wrists today, chances are many will have a shiny device strapped to their arm that keeps taking their attention.

Watches today offer a variety of uses. Gone are the days when a watch was simply used to tell the time.
In fact, it's true to say that many people rely on their smartphones to tell the time and basic watches are becoming less and less popular. Many people are replacing them with the modern, super smart watches available today.
What Is A Smartwatch?
A smartwatch is a device you wear on your wrist that basically makes your life easier. It's like taking a mini PC around all day and night. Smartwatches only became available in 2010 when tech companies started making watches with the ability to act like smartphones.
Companies began producing watches with more robust materials and more optimized sensors for accuracy. What do they offer?

Most watches will sync with your smartphone and be able to send notifications to the watch. This handy feature means you won't miss important messages as you will be alerted via the watch.
You can often answer them through the watch, so no need to reach for the phone. In addition, smartwatches usually work with an app that combines features for specific purposes.

Why Buy One?
Fitness tracking is one of the most popular reasons people purchase smartwatches. Those who take their health seriously can manage and track a fitness program that suits them and set goals and accurately monitor their progress.

Another unique feature of the smartwatch is GPS tracking, this is very useful when tracking activities such as running as it works with software to show you exactly where you went and what you achieved.

iTouch smartwatches are a great option for those on a budget. They are attractive and affordable, and not dissimilar to their Apple and Samsung Watch counterparts. They come in several colors and have a plethora of features that you would expect to find in a more expensive version. What features should you look for in a budget smartwatch?

iTouch watches will differ in what they offer, however expect to find the following as minimum:
Pedometer
Calorie tracker
Stopwatch
Weather
Remote music
Camera
Alarm
We've collected a few of the best iTouch watches to review and compare, so without further ado let's get reviewing.
The iTouch curve is a super cheap smartwatch with modern functionality and a classic round design. The easy to navigate touch screen keeps you connected, whatever you're doing during the day.
It offers a great selection of colors and straps, so it can suit any style. This watch makes a fantastic gift for anyone who wants to dip their toes into the world of smart technology.
Fitness Tracking
The watch offers basic fitness tracking such as a calorie counter, pedometer, and sleep monitor.
The watch is perfect if you just need to keep an eye on your fitness levels and identify what you're doing and what you can improve.
It's not the most appropriate watch if you require an all singing and all dancing fitness tracker with complex features.
Watch Features
The watch is fully compatible with smartphones and offers full phone features such as a phone book for storing all your contacts, remote music when paired with a phone, notifications and a rechargeable battery.

The reviews for this watch are mixed and some have commented that the product is marketed as waterproof, but usage has proved otherwise.
It may be worth avoiding water based activities if you decide to purchase this watch.
For those who prefer a touch of the traditional, this hybrid iTouch connected offers the best of both worlds.
Its appearance is classical, and you'll look distinguished whilst retaining smartphone features.
Look great when paired with a smart jacket or formal suit. It's available in red, pink or black as well as a metal plastic strap.

It is made from durable material with a glass screen that is waterproof and can withstand dust and scratches.
Fitness Tracking
It has all the usual features to track your fitness levels such as pedometer, calorie counter and heart rate sensor.
Watch Features
Receive incoming calls and messages and connect to the iTouch app for full functionality. It also offers Bluetooth and GPS connectivity.
Reviews are great for this watch, with most commenting on the nice ascetics and accurate tracking.

So, if you want a good smartwatch that is affordable but effective, the above are the best we could find. Try them out!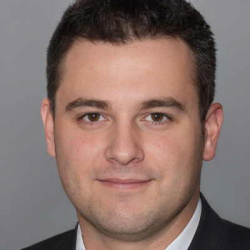 Latest posts by Garrett Jones
(see all)