"I have a weakness for watches, I have to stop myself buying more" - Tom Jones
John F. Kennedy once said "Change is the law of life and those who look only to the past or present are certain to miss the future" as a way to help people dismiss the fear of tomorrow and accept that if you refuse to ride the tide of circumstance with life and society, then the world will leave you behind.
And change, at least on a personal level, should always start with small things like embracing technology to become the best version of yourself that you can possibly be.
As the digital age seems to gain momentum on a daily basis it isn't hard to miss the latest leaps and bounds forward that it makes.
After all, if you take your finger off the pulse for the briefest of moments, you might miss all the transitional technological glory that was, and is specifically designed to make your life easier and better.
That's why it's entirely possible that the smartwatch revolution might have passed you by, as it seemingly appeared from out of nowhere and took almost every technophile, fitness fanatic, and committed futurist by surprise.
And, given their fairly formidable track record for innovation, it might also surprise you to know that while they might have originally been at the forefront of, and helped to pioneer the smartwatch movement, Apple is no longer seen as being the number one contender in the ever-evolving smartwatch race, as it rapidly gains momentum, they're just another participant.
What Is A Smartwatch?
In the simplest terms, a smartwatch is a personal computer and chronograph that was created to allow you to connect to the internet and to help you monitor your fitness, health, and any incoming messages and alerts on your smartphone.
In other words, it's a watch that does far more than just tell the time, as it'll help you to take the next step on your journey to becoming a better version of yourself.
Right now you're probably asking yourself how a smartwatch can help you on that journey, and the answer is actually quite simple.
A smartwatch can and will do everything that a fitness tracker can (measure the number of steps you've taken in a day, monitor your heart rate, and more), while keeping you permanently connected to your smartphone, and most importantly, it will also monitor your blood oxygen saturation levels so that you'll know that you're always at the top of your game, both physically and mentally.
Choosing The Right Oxygen Sensor Enabled Smartwatch
We thought that the last feature, the oxygen sensor (or SpO2 sensor to give it its proper terminology), might be the icing on the smartwatch cake that made you want to sign on the dotted line and throw your fitness tracker in the back of a drawer.
But, SpO2 sensors aren't a standard smartphone feature, which means that you'll have to navigate the often choppy and difficult currents of the smartwatch scene if you want to find the right one for you. At least, it would if you had to do it alone, but you're not.
That's what we're here for. Like you, we're determined to be the fittest, healthiest versions of ourselves that we can possibly be, which is why we decided to do all the SpO2 enabled smartwatch heavy lifting for you.
We've found eight of the best, budget-friendly smartwatches with SpO2 sensor technology, so all you need to do is find the right one on our list and then you can embrace a whole new way of thinking about your body and your mind, and can start to improve the way they work together, and function on a day by day basis.
Are you ready to take the first step on that journey?
Then let's begin…
You don't need a degree in rocket science to work out that the Pro 3 has built-in GPS, you just need to be able to read. But what else can it do?
Well, that's where things get incredibly interesting as the TicWatch is actually Google's own brand of smartwatch, which means that you'll have the entire power of the internet strapped to your wrist.
Its pulse oximeter continuously monitors blood oxygen saturation levels through the TixOxygen app, while its ECG app records every single beat of your heart while you're wearing it, so as soon as you choose your workout mode and get started the TicWatch will make all of your physical data available to you.
And it doesn't stop while you're sleeping either, as it monitors your downtime patterns and stress levels, and records all of the information that you need to push yourself further, harder, and for longer.
You want to be the best you that you can be, and TicWatch will provide you with all the tools that you'll ever need to reshape and rebuild yourself.
It doesn't stop there either.
With TicWatch, you can make and receive calls and use the streaming services that you subscribe to in order to listen to the musical or audio inspiration you need to power through your next workout.
And in low power mode, a single charge can keep the TicWatch, and its energy-saving screen enough juice to last for more than forty days.
So it doesn't matter how far from home you stray, with a TicWatch on your wrist, you'll never be alone again.
Pros
Blood Oxygen Saturation - The dedicated TicOxygen app will always let you know your blood oxygen level while closely monitoring your heartbeat, so you'll know how hard you've pushed yourself and how much more work you'll need to do to be where you need, and want, to be.
Apps-A-Go-Go - Want to stream your tunes on Spotify? No problem TicWatch has that covered. Want to leave your wallet at home and use Google Pay? As long as you're wearing your Pro 3, you won't need your cards, just use your watch (and your Google account) to cover your bills.
GPS - No matter where you roam, you'll always be able to find your way home with TcWatch's built-in GPS navigation system. Distance is no object, in fact, the only thing that will stop you while you're wearing this watch is you.
Cons
The List Of Don'ts - For a smartwatch that's supposed to be incredibly versatile, there's an alarmingly long list of don'ts attached to the TicWatch that you'll need to learn off by heart if you want to make the most of your new internet-savvy chronometer.
Waterproof? Sort Of - Google makes a big deal out of saying that you can wear the watch while you swim and that's true, provided you don't go past a depth of one and a half meters, or there isn't too much salt or chlorine in the water. We think what Google really meant was, you can wear it in the shower or the bath, but that's about it.
We don't all have the sort of deep pockets that make it possible to wear the big gun brand names in smartwatch design, but thanks to Popglory you don't need to give your pocketbook a beating to wear one.
It might not have the same sort of all singing and dancing functionality as some of the other smartwatches on our list do, but it does have the one essential component that we highlighted, and singled out when we embarked on our mission to find eight of the best smartwatches that'd fit any budget, no matter how big or small it was.
And that's an SpO2 sensor.
It isn't just a glorified pedometer either, as the Popglory will measure and record your resting and active heart rate, monitor your blood pressure and blood oxygen saturation, and has enough memory to store all of your favorite songs so you skip and flip between them while you're pushing through the boundaries of your workout.
It also has seven different sport modes, so you'll be able to figure out (with a little practice) which of them comes closest to your workout and record and monitor everything that you'll need to know to set you on the path to self-improvement.
There is, of course, a certain degree of reassurance that comes with name recognition, and you might be a little concerned that Popglory seems to have, well for want of a better word, "popped" up out of nowhere.
But just because you're not familiar with the brand it doesn't mean that it won't live up to your, admittedly high, expectations.
Sometimes, you need to focus on what's really important, and in this case, it's a smartwatch that costs a fraction of the price that its nearest rivals do.
Pros
Price Point - Take another look at that price. It's almost unbelievable, isn't it? Music, time, and fitness functionality that'll make your pocketbook smile and won't make your bank manager mad, what's not to like?
The Fitness Trifecta - It has a built-in heart rate monitor and measures your blood pressure and blood oxygen saturation levels via its SpO2 sensor. What more do you want or need from a smartwatch? Oh, you want interchangeable faces and background skins? Well, it might just be your lucky day as the Popglory smartwatch has those as well. And it also has enough internal memory to store your favorite songs that you can tune into with a little help from a set of Bluetooth headphones.
Compatibility - As long as your Android phone uses 4.4 or above or your iPhone is running on iOS 9, you'll be good to go with Popglory's smartwatch.
Cons
Battery Life - In full operational mode it only has a battery life of just over ten hours, and even in standby mode, you'll be lucky to get more than thirty hours out of a full charge.
Functionality - It isn't the most functional of smartwatches, and apart from monitoring and measuring your heart rate, blood pressure, and blood oxygen saturation, playing music (which you'll have to load onto it), and telling the time it doesn't really do anything else. Still, at that price point, it's a steal.
Whoever said that you get what you pay for didn't bother telling AmazFit that they needed to stick to that agenda, as their GTS is bursting with the sort of functionality and technology that you'd expect from a smartwatch at a price that most of us would be more than happy to, and would willingly, pay.
With fifty different watch faces to choose from (just hit settings and pick your favorite) and a borderless screen that doesn't waste a single millimeter of the AmazFit's one-and-a-half-inch display, the exterior of the GTS follows the same simple rule as the interior.
Pack as much as you possibly can into the room that you have.
So what have AmazFit managed to cram into the GTS?
Well, let's start with the ninety (yes, that's right we did say ninety) different sport mode controlled BioTracker 2 that monitors heart rate, stress levels, sleep patterns, and blood oxygen saturation and as well as recording each separately also combines them into a single, easy to understand figure that'll let you know exactly where you are, and where you should, and need to be in order to reach the physical goals that you've set for yourself.
But that's not all, as the AmazFit is compatible with both Alexa and Google Home, which means that you can control all of the WiFi-enabled and smart devices in your home from your watch and once you've paired it with your phone, it'll alert you to incoming texts, calls, and email.
It's an all-in-one smartwatch that does everything that you could ever want it to without damaging your belief in the idea that sometimes, dreams do come true.
Pros
Biotracker 2 - The AmazFit makes fitness and health simple and straightforward with an easy to use, comprehensive software system that monitors and measure your heart rate, blood pressure, blood oxygen saturation, stress levels, and sleeping patterns and allows you to access them separately or combines into a single figure that you can use to track your progress, and improve your performance.
Ninety Sport Modes - With ninety different modes to choose from, you'll easily be able to find the one that most closely matches your workout schedule. Oh, and did we mention that it's waterproof at up to five atmospheres of pressure? It is, which means that it's fine to wear the AmazFit while you're swimming.
Alexa, I'm Home - It's also fully compatible with Alexa, so you'll be able to control everything in your home that falls under Alexa's jurisdiction with the GTS. Just speak into your watch and let Alexa know what to do, and she'll handle the rest.
Cons
Results Aren't Always Accurate - While it'll measure and record everything that you want it to, sometimes the results aren't what you'll expect and might be within the parameters that you think they will. It doesn't always record everything that it was designed to record as accurately as it could, and should, which can put a bit of a downward curve in your long-term fitness planning. It doesn't always happen, but when it does it can be annoying and throw a monkey wrench into your well-thought-out and organized physical schedule…
It's time to refocus on the core objectives of our mission, and that means finding a smartwatch with an oxygen sensor that falls within everyone's budget.
That mission statement, the one that we were determined to follow regardless of where it took us, brought us to Aikela's door and their smartwatch that was designed and built to fit within the parameters of every single budget.
First things first, even though it's been made to make your bank balance happy, the Aikela is deceptively functional and user-friendly.
As soon as it's paired with your phone it'll display any, and all, incoming messages from your social media accounts, ping text alerts to its screen, and alert you to any incoming phone calls.
It also uses nine different sport modes to record the number of steps you take in a day, will bounce you into action if you've been standing still or sat down for too long, and unlike every other smartwatch on our list, has a training function that revolves around teaching you the importance of deep breathing.
In fact, it's the only smartwatch that we've ever stumbled across that believes it's important to take a moment for yourself in order to find the peace of mind and focus that are vital to discovering the path to become the person that you long to be.
Most importantly though, it measures, monitors, and records three things - your heart rate, your blood pressure, and your blood oxygen saturation level.
The Aikela does everything that we, and you, will want it to do at an easily affordable and comfortable price point. And that's all that really isn't it?
Pros
The Big Three - It monitors, measures, and records blood pressure, blood oxygen saturation, and heart rate. That's the one thing that we needed it to record and a couple of extras for good measure.
Deep Breathing Excercise - The deep breathing exercises that it teaches encourage you to get in the right frame of mind for an extended and prolonged physical workout, which means that it's the one smartwatch on our list that recognizes and appreciates the link between a healthy body and an active, relaxed and ready mind.
Water Proof - It's also waterproof up to a depth of fifty meters. So yes, you can go swimming while wearing it without having to worry about chlorine, salt, or water damage and it will measure and record your water-based exercise as part of your daily fitness regime.
Message Alerts - It'll display any and all incoming net-based messages and ping you when a text message arrives or a phone call is about to either make your day or ruin your workout.
Price Point - And it falls well within the comfortable boundaries of a budget that anyone and everyone can happily and easily afford.
Cons
Battery Life - The battery life leaves a lot to be desired, and when it does start to fade the accuracy of the measurements (heart rate, blood pressure, and oxygen saturation levels) suffers, which as we've already mentioned, can leave you feeling frustrated as it'll throw your whole fitness plan in the air and can put a serious dent in your quest to discovering the version of yourself that you always wanted to meet.
Buyers Guide
What Is An Oxygen Sensor?
An oxygen sensor, more commonly known as a SpO2 sensor is a tool used to measure pulse oximetry or the level of oxygen saturation in an individual's bloodstream.
It is a non-invasive piece of equipment that can quickly and efficiently detect even the slightest fall in the amount of oxygen being carried in a person's bloodstream.
The more oxygen in a person's bloodstream, the more efficiently their heart and lungs are working.
A normal pulse oximetry reading should be around ninety-five percent, and anything less than ninety percent could be indicative of a serious health problem that should be checked out by a medical professional as soon as possible.
Smartwatch Pulse Oximetry Tips
Over the years, we've picked up a few tips that have helped us to figure out the best way to get an accurate oximetry reading ninety-nine percent of the time.
However, we'd like to stress that none of these methods by themselves are guaranteed to give you a completely accurate figure, but if you use all of them together, then the sensor in your smartwatch should be right almost all of the time.
Palm Down - Place your arm on a flat surface, with the palm of your hand facing down before you take the measurement. It ensures that the sensor in your watch will be focused on doing what it's supposed to do, and that's to measure the oxygen saturation in your blood.
No Bone - The bottom of your smartwatch needs to be resting flat on your wrist and not on your wrist bone. If your watch is resting on the bone, it won't be able to accurately measure the blood flow and use that data to calculate the percentage of oxygen in your blood.
It needs to be flat against your skin and not flat against the bone.
Tighten It Up - We know that it's more comfortable to wear your watch loose on your wrist, we're guilty of doing the same thing ourselves. The problem is, a loose watch won't give you an accurate reading, so you'll need to tighten the strap before you take a reading.
It's a couple of minutes of discomfort at most, and it'll be worth it. And when we say tight, we don't mean tight enough to cut off your bloody supply, we just mean that it should be tight enough to prevent your smartwatch from slipping up and sliding down your wrist.
Avoid The Ink - If you do have any tattoos on your wrists try to place your watch on the clearest part of your skin. The less ink there is below your watch, the more accurate the reading and measurement that you'll get will be.
Which Smartwatch With An Oxygen Sensor Is The Right One For Me?
That depends entirely on one thing, your budget and what you can comfortably spend on your smartwatch.
If it's on the higher end of the economic scale, then the only smartwatch you should realistically choose is the Samsung Galaxy 3 if you use an Android phone, or the Series 6 if you have an iPhone.
However, if your budget is considerably smaller, then the only smartphone with an SpO2 sensor that you'll ever need is the Kalinco. And it'll probably be the best investment that you'll ever make. Trust us, we know these things.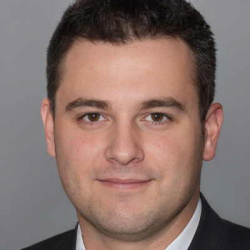 Latest posts by Garrett Jones
(see all)