As a trucker, your life is on the road. You'll spend the whole day behind that wheel going from place to place, highway to highway. However, driving all day is difficult, your attention is always on the road ahead and the drivers around you.

Looking away from the road could be devastating, horror stories of overturned trucks and injured families plague the news each day. So when you see that important call from a client or your boss, how do you answer it?
It takes a second, maybe two, to press that big green answer button but even at 90kph one second is 25 meters. That's almost 5 and a half Toyota Corolla's. Is it worth the risk?
With a Bluetooth headset, you can answer that call without having to take your eyes off the road for even that one second. Adding comfort and security to your daily work-life. You're going to be wearing this headset for many miles yet so it's important to find one that's good for you.
That's where we come in, so put yourself into cruise control while we take you through the best of the best, and the worst of the worst.
Plantronics Voyager 104 is built with truckers in mind. It has a focus on comfort, with the over-head band being lined with memory foam, allowing you to use them long-haul and not feel uncomfortable.
The headset controls are simple to use and designed so you can use them while wearing work gloves, so no more having to de-glove just to answer a call.
Plantronics has also tested the headset alongside diesel engines and the Voyager 104 can exclude 99.6% of background noise when using the microphone so your client can hear you clearly.
The headset also has a 24-hour battery life with only a 2.5 hour charging time so you don't have to worry about a dead battery during your workday.
Pros
Noise Cancelling Microphone - With up to a staggering 99.6% of background noise being eliminated, this headset is perfect for talking in loud areas.
Glove Friendly Controls - Not having to take work gloves off to fiddle with the controls makes the Voyager 104 just that bit more efficient.
24 Hour Battery Life - The battery will definitely last you through your workday.
Comfortable - The memory foam-lined headband makes the headset comfortable to wear for long periods of time.
Cons
Heavy - Some reviews have mentioned that the headset can be quite heavy, affecting comfort over a long period of time.
If you like the sound of the S450-XT but do most of your work in Virginia or any other state that forbids the covering of both ears while driving, the B250-XTS is its one-eared, cheaper cousin.
The BlueParrott range does have a few one-eared headsets but we've singled out the B250-XTS due to its weight.
This headset weighs three times less than its cousin and makes it easier to carry on your head for those long-haul journeys.

It also has a better noise cancellation rating, blocking up to 91% of all background noise in your ear.
The B250-XTS has over 20 hours of talk time with 490 hours of standby time, which is plenty for your working day and allows up to 66ft of range when having to move around.

Pros
Noise Cancellation - This headset can exclude up to 91% of all background noise.

Lightweight - Weighing at just 71 grams, it won't weigh your head down over long periods of time.
20 Hour Talk Time - The battery allows you to talk non-stop for 20 hours, and lasts on standby for 490 hours.
Range - Allows a range of 66ft, so you can work without having your call disconnected.
Cons
Comfort - Some reviewers find that the earpads on the B250-XTS aren't as comfortable as other BlueParrott headsets, with some recommending that you replace the earpads when buying this product.
The Blue Tiger is a giant when it comes to long-haul trucking, headlined by its immense battery life allowing a whopping 60 hours of talk time and 1,200 hours of standby time.
This means that you won't even have to think about the battery for weeks on end. It's also prided in its comfort, with cushioned earpads and an adjustable band allowing you to mold the headset to your own unique head.

Both the microphone and the headset block out up to 96% of background noise allowing a crisp and clear conversation both ways without the interruption of traffic.
Despite the added comfort and battery, the Blue Tiger is surprisingly lightweight, weighing in at around 121 grams. If you are looking for a Bluetooth headset primarily for long journeys, this is the headset for you.

Pros
Battery Life - This headset has by far the best battery on this list, its 1,200 hour standby time and 60 hour talk time allow you constant use for long periods of time.
Lightweight - 121 grams is a comfortable weight to have on your head throughout the working day.
Noise Cancellation - Both the headset and the microphone have 96% background noise exclusion allowing a clear conversation on both ends.
Comfortable - The Blue Tiger is said to be very comfortable with cushioned earpads and an adjustable headset.
Cons
Range and Connectivity - Some reviews have mentioned that the Blue Tigers can disconnect from the Bluetooth easily and that they don't have the best range for outside of the truck.
The Jabra Talk 45 is an in-ear headset, which means it doesn't have a headband or an earpad and instead fits into the ear similar to an earpiece.
In-ear headsets are often way smaller, meaning that they are way more lightweight than over-the-head headsets.
However, despite its miniature size, the Jabra Talk 45 can still ride with the big boys.

This headset allows high-definition calling and has 2 microphone noise cancellation technology, which means that the microphone adjusts the volume according to the noise around it.
This ensures that whoever is on the other end of the line hears you loud and clear.
The Jabra also has a dedicated button to Siri or Google Assistant that lets you use your phone's features without taking an eye off of the road.

The maneuverability of the Jabra doesn't just come from its size, it also has a huge range of 98 feet, so you can leave your phone in the cabin and go about your work without having to miss any calls.
Pros
Lightweight - Being an in-ear headset means you can carry it around on your person with ease.

Noise Cancellation Microphone - The 2 microphone technology has the microphone adjust the noise levels according to the noise around you.

Range - The Jabra has an astonishing range of 98 feet allowing maximum maneuverability.

Virtual Assistance - A dedicated button that allows you to use Siri and Google assistant without touching your phone.
Cons
Battery Life - The Jabra only has a battery life of up to 6 hours, which isn't ideal for long
The Tecknet TK-HS001 headset is another great option for a life on the road.
Its users agree that it is very comfortable and the earpads house a breathable cushion that allows air to flow and lets you wear the headset for long periods of time.

The TK-HS001 also has a noise cancellation percentage of 99.6% so there is no trouble when talking on the phone.
This headset has a long-lasting battery which pairs well with the long-haul comfort of the earpads.
The battery has a talk time of up to 32 hours and only takes 1.5 hours to fully charge. As well as this, it comes with a USB dongle to allow car charging while you're not using it.

Pros
Comfort - The TK-HS001 has a breathable, cushioned earpad to allow airflow and allow you to use it for longer periods of time.
Noise Cancellation - With a 99.6% noise cancellation rate, you can take calls without any interference from the loud surroundings.
Battery - This headset has a talk time of up to 32 hours with just a 1.5 hour charge time, allowing you to use it consistently for long-haul journeys
Cons
Battery Notification - Some users have complained that there is no notification when the battery is about to die, so they have been left without warning and unable to use their headset.
The One to Avoid
Although on the surface this may look like a decent headset for a trucker to buy, don't be too quick. It does do the job, it can make Bluetooth calls as well as receive them and it is said to have a noise-canceling microphone.
However, it is noted in a few reviews that the noise-canceling microphone doesn't cancel noise all that well, not allowing the user to make calls when there is excessive wind.

The main problems with this headset for truck drivers would be the comfort and battery life. Some reviews have mentioned that the headset sits awkwardly in the ear and occasionally will fall out.
This could be very dangerous while driving and cause more problems than it fixes. The battery life is also said to be short, with Plantronics noting that the standby time is a measly 11 hours and the call time to be 7 hours.
However, reviews suggest that the time does fluctuate making it unreliable for those long-haul journeys.
Although the Voyager Legend UC Bluetooth Headset may be a decent Bluetooth headset, allowing you to do the basics. It is not a good Bluetooth headset for truckers.
Buyers Guide
Buying a Bluetooth headset that's unique to you is important, after all, it's you that'll be wearing it all day while you concentrate on the highway.
So it's equally important that you know exactly what you're looking for, that's why we've put together this in-depth buyer's guide to help you find your one-of-a-kind headset and get back on the open road.
Battery Life
Whether you're a long-haul trucker or not, battery life is extremely important. You can't answer any calls if your headset is on charge most of the day. That's why most of our listed headsets and the better ones you'd find on the market have a decent and consistent battery life.
Battery life in headsets designed mainly for voice calls are measured in talk time and standby time. Talk time is the time it would take the battery to run out if you were on a call non-stop. If a headset has a 6 hour talk time, don't panic, this doesn't mean that the battery will run down i
n 6 hours as we assume you won't be on a call for 6 hours straight.
Ease

Of

Use
When driving, you aren't going to be able to use your phone to answer calls and change your music, therefore it is vital that the Bluetooth headset has some sort of alternative in place.
On some headsets, this may be the inclusion of a multifunction button that allows you to perform tasks with a single click. Some are voice-activated through virtual assistants like Siri and Google assistant.
Noise Cancelation
You work in a loud environment. Being stuck in traffic behind a diesel engine, you want to be able to hear and speak clearly. The headsets that we've included on this list and any Bluetooth headset designed for work advertise some sort of noise cancellation rating.
It's always important to check if the noise cancellation feature is backed up, this will usually be with a tested percentage of the amount of background noise excluded.
Noise cancellation can also be backed up by specific technologies such as a microphone that cuts when you aren't speaking.
Comfort And Fit
As a trucker, you'll be wearing a headset for your entire workday, the comfort of this headset is therefore as important as the comfort of the seat you are sitting in. It is crucial that you feel comfortable wearing your headset for extended periods of time.
Everyone is unique in what they find comfortable. Some people prefer having the headset go over their ear, in this case, make sure there is some sort of padding. It's also worth looking for adjustable headbands so you can cater the over-the-head headset to your specific head.
If you are uncomfortable having an over-ear headset then it would be worth looking in the realm of in-ear headsets. With advances in technology, it is possible to get in-ear headsets that have equal features if not more to their over-ear counterparts.
Bluetooth Range
If you're a long-haul driver that spends the majority if not all of your day in the cabin, Bluetooth range may not matter.
However, if you spend a lot of time loading and unloading around your truck it is important that your Bluetooth headset doesn't cut in and out while you're doing this.
Keep this in mind when looking for a headset. It is also crucial that the headset has a reliable Bluetooth connection and doesn't cut out mid-journey.
Frequently Asked Questions
Is It Legal For Truck Drivers To Use Headsets?
In most cases, Truck Drivers can use headsets if they don't cover both ears and in some cases, it is legal for Truck Drivers to wear headsets that cover both ears.
However, this varies by state so it is important to check with your state beforehand. If you are traveling state by state, it may be best to go for a one-ear headset.
Are Over-Ear Headsets Better Than In-Ear Headsets?
Not necessarily. Although over-ear headsets usually house a longer battery life due to their physical size.
Nowadays even the smallest in-ear headsets include all of the technology you will need for a Bluetooth headset, including noise-cancellation microphones and earbuds. The only major difference between these types of headsets would be the personal preference for comfort.
Do Truck Drivers Need To Use Headsets?
When your job is driving for long periods of time it is vital that you concentrate fully on the road ahead of you.
However, most truck drivers also need to do business while they are driving, meaning taking and making calls. Therefore, while it is not mandatory, it is safer and easier to have a headset.
How Long Does A Bluetooth Headset Last?
This all depends on the headset in question, the battery life of a Bluetooth headset is divided into 'talk time' and 'standby time'. Talk time is the time it takes for the battery to run out if you are talking for the entire duration.
Standby time is the time it takes for the battery to run out when the headset isn't being used but is still turned on. Some Bluetooth headsets can last up to 60+ hours of talk time and 1200+ hours of standby time.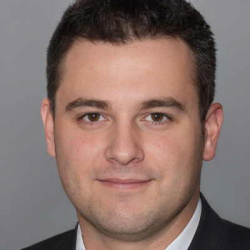 Latest posts by Garrett Jones
(see all)