The smartwatch industry is growing on a huge scale. Many of us want a watch that tracks and monitors our fitness journeys yet still looks fashionable and modern. If your looking for a smartwatch then look no further than Garmin.
Garmin (see also 'The 11 Best And Latest Garmin Watch Faces') offers fantastically intelligent watches complete with the latest technology that not only lets us monitor our exercise, sleep and health but also use the watch to send texts, listen to music and use contactless when out shopping.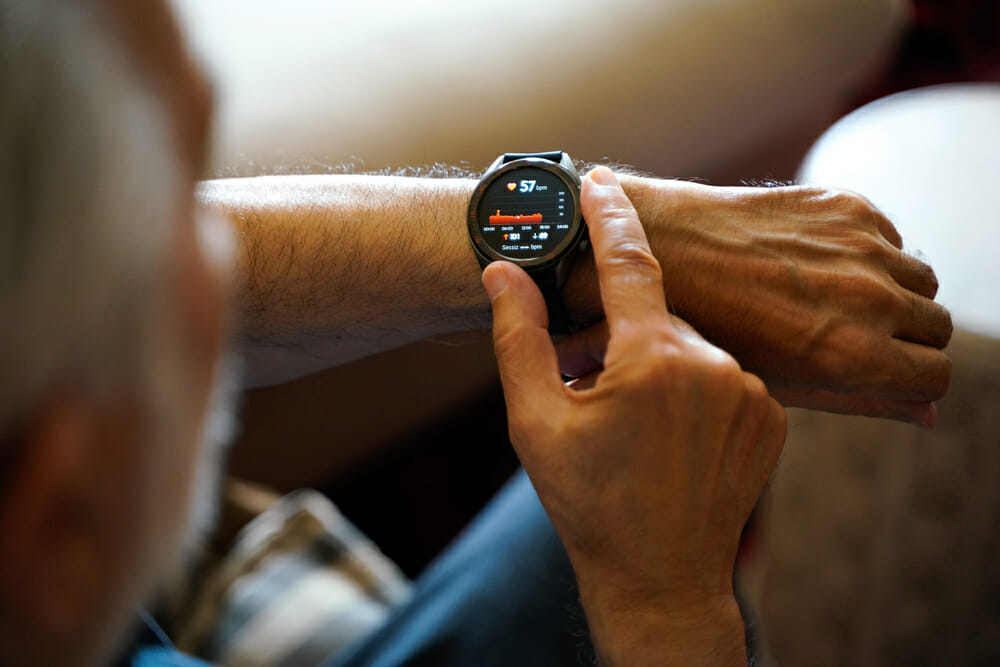 Garmin's neat tech makes them one of if not the best companies out there for smartwatches. They deliver high-end watches that come with unique perks and a variety of features.
However, this can also be a problem. Garmin (see also '19 Of The Best Apps For Your Garmin Watch') is such a big brand that they have more than 6 categories of watches. Within those categories, different styles and features come with every watch. With so many models to choose from how do you know which one is right for you (if you need to know how to tell the model of your watch by the serial number, read here).
No need to worry! This article will explore three of Garmin's most popular models looking at what they offer and how they compare to each other. It will look at the key differences between each watch, hopefully making it a bit easier for you to choose the watch for you.
The watches looked at in this article are from the Garmin Vivo Series. These models are the Garmin Vivoactive 3 Music, 4S, and 4.
Model Profiles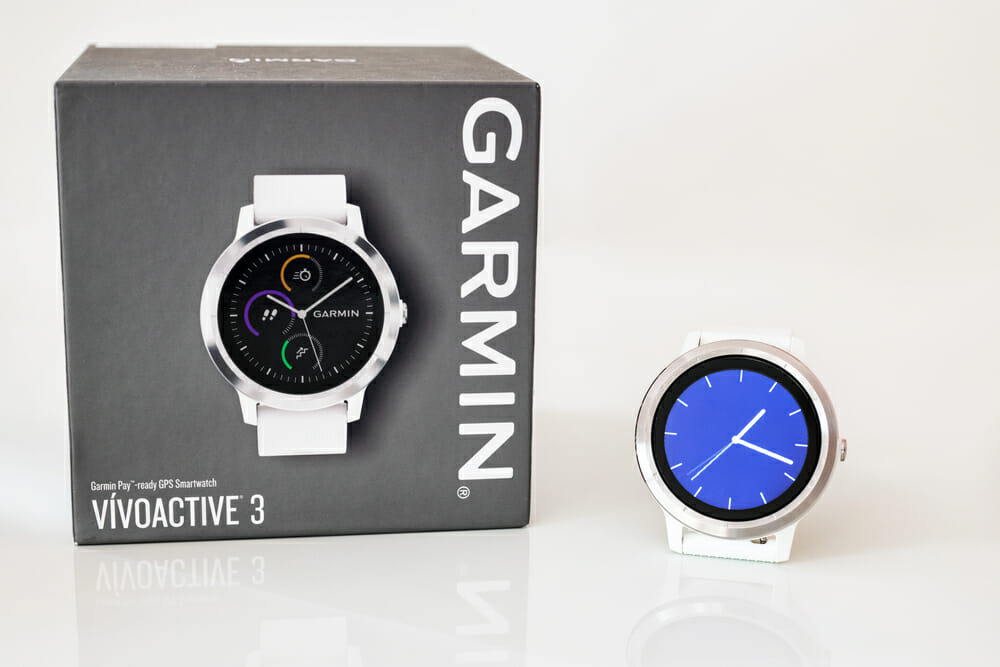 The Vivoactive 3 Music is the oldest of the three smartwatch models in this article but that doesn't make it a bad watch. In fact, it is quite the opposite. The Vivoactive 3 is a fantastic watch offering the customer a variety of handy features in an attractively designed product.
The main feature and where this watch gets its name from is in the watch's ability to store music. You can store 500 of your favorite songs on the watch, so you never have to do your workouts without your playlists again.
Vivoactive 3 is compatible with most music streaming services including Spotify allowing you to create playlists and download them straight to your wrist.
As well as the music Vivoactive 3 comes with some pretty awesome features and tech. The smartwatch tracks heart rate, sleep, calories burnt, and menstrual cycle and allows users to monitor a huge variety of their exercise routines.
Vivoactive 3 gives a detailed analysis of your daily run, swim, gym workout, and yoga to name a few. On the 30.4mm display with a resolution of 240×240, you can see how much exercise you have done, for how long, and what effects it has had on your body.
15 preloaded exercise routines can also help you if you are struggling for inspiration.
Pros And Cons
Pros
Music – The watch stores 500 songs.
Comfortable – The silicone strap makes the watch comfortable to wear all day.
Preloaded workouts – Handy for those days when you're struggling to get going.
Battery life – 7 days battery life or 5 hours of GPS tracking and music is great.
Interface – A changeable interface with thousands of options allows the user to make the watch their own.
Cons
Appearance – It could be argued that this watch doesn't look as appealing as other models.
Open water swimming data – You can track pool swimming but not open water swims as other models can.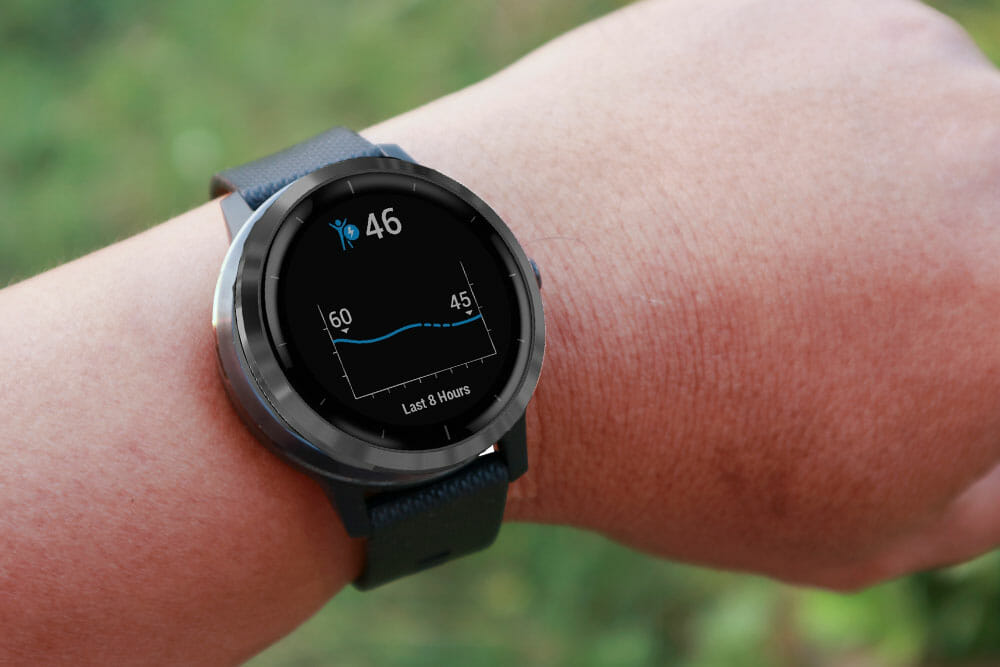 The Vivoactive 4 is another brilliant smartwatch. Like the Vivoactive 3 Music, this watch can store up to 500 songs allowing you to create and play your playlists directly from your wrist.
The amazing-looking product does everything you would expect from a smartwatch and more. Tracking your heart rate, monitoring how many calories you have burnt, and checking how much sleep you have had just scratches the surface of what it can do.
This watch is ideal for any budding athlete who wants to collect data on all aspects of their daily lives. With 8 days of battery life, you can monitor your breathing levels, hydration levels, body energy levels, respiration levels, and women's health tracking.
On top of this, you can then track more than 20 preloaded indoor and outdoor GPS sports activities. These include running, swimming, and cycling.
Vivoactive 4 comes with animated, on-screen workouts. These include yoga, strength and conditioning routines, and pilates. Having this all on your wrist is a huge advantage of the Vivoactive 4.
Also included on the Vivoactive 4 is the ability to use the Garmin coach. The Garmin coach essentially provides you with a free-running coach on your wrist. Sounds pretty good right!
The latest technology makes this watch one of the best around. The Vivoactive 4 is equipped with the new pulse ox sensor.
This sensor gauges your blood oxygen saturation during the day and whilst you sleep so that you have an indication as to how well your body is absorbing oxygen.
Pros And Cons
Pros
Latest technology – Comes with the pulse ox sensor.
Variety of activities – Having over 20 built-in sports activities helps the user find the sport they want to do.
Battery life – 8 days of battery life is excellent.
Newer features – The ability to track oxygen levels and hydration levels is great.
Garmin coach – Having a free-running coach on your wrist helps you meet your running goals quicker.
Appearance – The watch looks fantastic.
Cons
Size – The watch is larger than other models available. Might not fit smaller wrists.
Two-color fonts – You only have two-color fonts to choose from which is fewer than other models.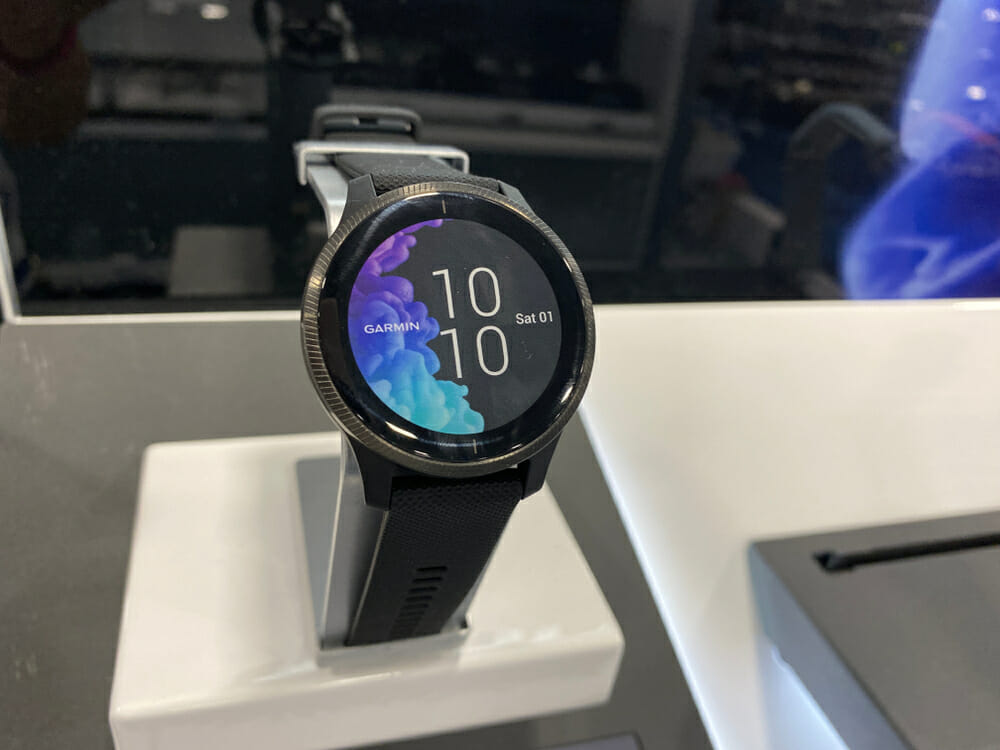 The Vivoactive 4S is very similar to the Vivoactive 4. It also has lots of newer features that make it a popular choice with consumers. In fact, even though the watch is a couple of years old it still remains one of the most popular smartwatches that Garmin sells.
The smaller smartwatch is 40mm in diameter and has a screen resolution of 218×218. The battery life on the 4S is 7 days giving you plenty of time to make the most of the exercise features that are built-in to the product.
You can monitor your heart rate, hydration levels, oxygen levels, sleep, and respiration levels making it nice and easy to get a good understanding of your body and how it's performing.
Like the Vivoactive 4, you have more than 20 preloaded sports right on your wrist ready to go. If you want to track a run or see how far you have swum you are only two buttons away.
The smaller design of the 4S makes this watch much more compatible with those with smaller wrists and is more suited to those that aren't looking for a bigger watch.
If you are a fan of yoga and pilates then be sure to use the animated on-screen workouts to your advantage. Not only can you follow set routines, using the Garmin app you have the capability to customize each session to suit you.
This is great for those of us that don't like doing that one exercise or struggle to do the downward dog.
Overall the Vivoactive 4S is a lovely streamlined watch. It has taken the latest smartwatch tech and put it into a neat device that not only performs well but looks great too.
Pros And Cons
Pros
Size – The smaller watch suits those with small wrists.
Colors – Having more color options (4) makes it easier for customers to find a watch they like.
Battery life – A 7-day battery life is good.
Built-in activities – 20+ preloaded activities are impressive.
Customization – The ability to customize the watch's activities provides customers with a more personal tailored experience.
Cons
Size – A smaller watch might not fit those with bigger wrists.
Resolution – The screen resolution on this watch isn't as high as the other models.
What Are The Differences?
Now we have profiled each watch we can look at the key differences between each model.
It's fair to say that all three models are excellent watches. If you were to purchase any of these models it is unlikely you would ever be disappointed.
Having said that there are some key features and design specifications that make the watches different to each other.
Music
Although music isn't the most important feature of a smartwatch it is one of the key features of the Vivoactive 3 Music. This watch prides itself on the ability to store 500 songs on the watch.
This is excellent but when you compare it to the 4/4S is it actually that special?
Both the 4 and 4S watches can also store up to 500 songs on the device. Okay, the watches are newer but this could be a problem for Vivoactive 3.
What would make a customer buy an older watch because it stores music when the newer watches can do the same thing and more.
Music is the main feature Garmin wants people to buy the Vivoactive 3 for, but the other two models can do it too.
Preloaded Activities
In terms of preloaded activities, the Vivoactive 4 and 4S have more than 20. They also offer users the ability to customize the activities to suit their needs. The Vivoactive 3 has 15 preloaded activities.
Compared to the 3 this again shows that the 4 and 4S are superior.
However, it must be said that 15 activities for an older and cheaper watch are still pretty good.
Design
When the three models' design is compared we start to see some differences. The size of all three watches varies. The smallest of the three watches is the 4S with a diameter of 40mm. This is great for those with smaller wrists but could be a problem for others.
The Vivoactive 3 Music has a diameter of 43mm which is slightly smaller than the Vivoactive 4 which is 45mm in diameter.
These differences don't make too much difference to the ability of the watch but could cause problems if you don't try before you buy. The last thing you want is a fancy smartwatch that doesn't fit you.
All 3 watches come with the same silicone strap. The only other significant difference between the 3 models is the color fonts you can choose from. The Vivoactive 4 only has two-font colors available whereas the 3 and 4S both have at least 4.
This shows that there is more variety and choice to find your favorite color with the 3 and 4S.
Technology
Each watch comes with some amazing technology that tracks a hell of a lot of data. When compared to each other though there are differences. The Vivoactive 3 doesn't have as much technology in it as the other two watches.
This is understandable considering it is an older watch. The 4 and 4S both have the newer pulse-ox sensors built-in providing us as customers with even more data. When compared to each other we can see that the 4 and 4S are equal on this score and both share the same technology.
The Overall Ability Of The Watches
All three watches perform magnificently well and give customers exactly what they want. They compare with each other pretty well. All three watches let users track basic metrics such as heart rate, sleep, and calories.
They then all give you the possibility to take an in-depth analysis of a huge variety of activities with the 4 and 4S having at least 5 more than the 3.
When comparing the three on this we can confidently say that all three perform similarly with great battery life, strong GPS, and a wide variety of things to use your watch for with some cracking perks like listening to your music and paying with your watch in the shops.
Final Thoughts
So which watch should you buy? In all fairness, each model is fantastic and offers you most if not all the things you need it for.
None of these watches are worst than the other there are just a few different features that come with each watch that might make one suit you more than the other.
When comparing all three watches though it has to be said that the Vivoactive 4 is the most powerful smartwatch. It not only comes with every feature the other two models come with but also looks awesome and has longer battery life.
Despite the Vivoactive 3 and 4S being incredible watches they don't have the same battery life as the 4 and also have smaller displays.
Yes, the Vivoactive 4 is a bigger watch that might not fit everybody's wrist but we believe the pros that come with this watch far outweigh this one negative.
There does however have to be an honorable mention for the Vivoactive 3 Music. This watch is older than the other two models but still packs a punch. It is one of the cheapest brands of watches that Garmin makes but still performs unbelievably well.
For it to be so much cheaper than the 4/4S and still only fall behind because of a couple of features is rather good.
To summarize we would recommend the Vivoactive 4 as the watch to go for but if you are more than happy to sacrifice a little bit of tech for a smaller and much cheaper watch then definitely check out the Vivoactive 3 Music.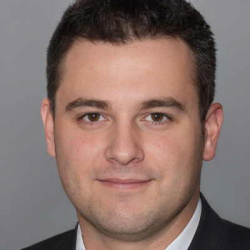 Latest posts by Garrett Jones
(see all)