Neckband Bluetooth headphones have taken the world by storm in recent years, and for good reason. Music is an important part of our lives. Not only music, but in our busy lives, we're constantly in or waiting for phone calls, which means we wait around.
So much time is wasted waiting as well as rummaging through pockets or having headphones slipping off our heads. Exercising and daily life can turn from the best thing in the world into the most frustrating.
We've all been in that same scenario where you're busy or out, and you have to get to your phone to answer a call.
What about that time you were jogging down the street and every step you took, you could feel your headphones smacking your head or falling off it entirely? Not to mention how bulky so many headphones are nowadays - it's a never-ending struggle.
Despite all of these problems we face - there is a solution. Gone are the days of fishing for phones, bulky headsets and irritating placement.
Using neckband Bluetooth headphones makes life so much easier in every way. Bluetooth and functions mean you can enjoy your life wire-free with no fear of knotted or damaged cords.
Of course, there are so many neckband Bluetooth headphones to choose from, so we've decided to help you. Instead of spending hours scrolling through all the major retailers, we've put together a list.
Here, you can check out some of the best neckband Bluetooth headphones available on Amazon.
Buyer's Guide
Choosing the perfect pair of Bluetooth neckband headphones is tough. With so many things to consider, we've put together a buyer's guide to help you on your way to choosing the best fit for you.
Below are some things to consider when looking for the perfect Bluetooth neckband headphones.
Access To Charging Stations Throughout Your Day
With all the headsets boasting all the same base features such as hands-free use and good audio quality, attention should be diverted to battery life.
If you live a busy life and are out for most of the day without access to charging stations, chances are you will need a headset that has a long battery life. Alternatively, headsets that are fast charging could be suitable for your needs.
Noise-Cancelation Options
If phone calls are an important part of your daily life, then you may wish to invest in something with noise-canceling technology. This is the case especially if you are active and like to exercise outdoors in environments that are typically noisy.
By choosing a headset with noise-canceling functions, neither you nor the person on the other side will become frustrated by the world around you while attending business.
If, on the other hand, you intend on using the headphones in quieter environments or at home, noise-cancelation may not be a priority for you.
Likewise, if you prefer not to be immersed and potentially unaware of your surroundings, noise-cancelation might not be something that you actually want. This might be the case in places such as cities where it is important to know what is happening around you and hear vehicles.
With that being said, it should be noted that not all noise-cancelation headsets are the same. Active noise-cancelation will better reduce noise from your environment compared to passive noise-cancellation technologies.
When it comes to passive vs active noise-cancelation, the only technology that will work for earbuds is active. This is because there is no mass between your ear and the outside world like there are with regular headphones.
Aesthetics
Not all neckband headsets are made equal when it comes to aesthetics. There are many devices that are limited in terms of color options, while others have a wide range of fun and chic choices.
Not only this, but the shape of some headphones may not be seen as being 'attractive'. Your personal preference when it comes to the appearance of the headset is just as significant as its functionality, since you will be the one to be using the device.
Very Bluetooth neckband headphones are made to fit colorful preferences. With that being said, there are a few gems out there that come in purples and pinks.
Sound Quality Can Be Subjective
Because we are all individual people, we may prefer different sounds. With that being said, a general rule for picking a Bluetooth neckband headphones with good sounds quality are as follows:
One - The vocals must be clear through one or both sides, depending on whether the device is surround-sound or not.
Two - The bass must be clean rather than muddy, and three - music being played at full volume should still sound good. If there is a harsh pitch to the music, the quality is not the best.
It should be noted, however, that we do not typically listen to music at full volume. If you want a decent pair of Bluetooth neckband headphones, passing the first two points should be ample for most buyers.
Latest Bluetooth Technology
If you only want the best of the best, you need to keep an eye out for Bluetooth neckband headphones that have the latest Bluetooth technology.
This is because the latest technology not only had a better signal range, but data transfer is much faster in the newer technology.
Having the latest Bluetooth technology for your headphones also means that they will connect to your MP3, phone, or any other device much faster and keep a strong connection.
Purpose of Use
Some headsets are made to be more durable than others. This is something to consider when looking for the perfect neckband headphones are you wouldn't want them breaking hours after unboxing them.
If you are a very active person and take part if vigorous exercise, it will be worth looking for strong devices that can withstand the movement. Headphones made with silicons and metal alloys are more likely to resistant to hours of hard work.
Not only this, but whether the headphones are waterproof or not may play an important role in deciding which device is best for you. If you are expected to sweat a lot during the day, a waterproof headset will be a good option.
Likewise, the weather where you are situated - if you tend to go out jogging, and it's always raining, waterproof headphones would be well suited for the environment.
Similarly, if you do not lead a heavily exercise-centered life, durability may not be an issue. If you are likely to primarily use the headset for home or office use, you can afford to make your choice based on other functions.
Price Range
Of course, price is a critical thing to consider when looking for your perfect pair of Bluetooth neckband headphones. Prices vary considerably from brand to brand.
However, more often than not, the functionality and abilities that the middle of the range headphones possess are the same as the most expensive brand. If you are willing to try out a little known brand compared to a major competitor, you might be surprised by the results.
Frequently Asked Questions
Are Bluetooth Neckband Headphones Comfortable?
This is subjecting depending on personal preference, but the short answer is yes. So long as you choose a neckband device that is suited to your shape, earpiece size and overall preference, it should be comfortable and wearable for many hours.
Are Bluetooth Neckband Headphones Safe?
Low levels of non-ionizing radiation are emitted from all Bluetooth devices. This, however, has been found to be harmless to humans according to the FDA. Even being exposed to this kind of radiation routinely is considered to be harmless.
Are Bluetooth Neckband Headphones Expensive?
This depends on many things. Some Bluetooth neckband headphones can be very expensive, while others can be affordable. This typically depends on the brand you are buying from, as well as the technologies inside the device itself.
As a general rule, Bluetooth neckband headphones that have active noise-cancelation will be more expensive than those with passive noise-cancelation.
Are Bluetooth Neckband Headphones Good For Running?
Both in terms of battery life and general functioning, Bluetooth neckband headphones are great for running, or exercise of any kind. There are no wires to get in the way, and they are hands-free.
Many of these neckband headphones are durable, waterproof, and will not get in the way of activities.
Are Bluetooth Neckband Headphones Better Than Regular Headphones?
While wired headphones tend to have better sound quality than Bluetooth headphones due to the technology, neckband headphones are very useful. They are not better or worse than regular headphones as they are generally used in a different environment such as jogging.
Bluetooth neckband headphones are better than regular headphones in terms of use while being active and, in many cases, durability.
How Does Active Noise-Cancelation Work?
Noise-cancelation can be found in many Bluetooth neckband headphones. The noise-cancelation works by generating an inverse frequency to the frequency in the environment.
This means that the frequency that is generated is equal to and opposite the noise from around you. As a result, it doesn't matter how loud the sound is in the environment because the frequency will measure it and cancel it out.
Is Noise-Canceling Good For Your Ears?
Noise-canceling can actually be good for you, so yes. Headphones with noise-canceling features are safe to use and were originally designed for the use of pilots.
The idea was to protect the pilots' hearing by canceling out loud sounds such as the plane engine. Not to mention, using noise-canceling headphones can help reduce stress that is noise-related.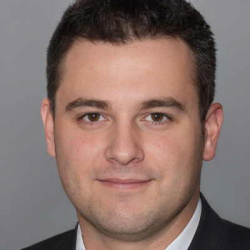 Latest posts by Garrett Jones
(see all)