I'm always walking around with headphones on, creating soundtracks to whatever the day is - Jonathan Levine
Music is the universal language that sets us all free, it removes the chains imposed by the everyday reality of a nine to five existence and is the fuel that, in our imagination at least, gives us the power to be who we always wanted to be.
It's the drug of choice for millions that feeds our need to be free, to sing and feel the Earth move under our feet without any side effects or consequences.
It's the lover who doesn't get jealous if you choose to flirt with a myriad of artists instead of devoting your life to a single composer and when you're down, it's there to lift you back up and put the spring back in your step.
It's the answer to a rainy day, the map that helps us to navigate our way through an increasingly crazy world, and the one constant that's always there for us. And how we choose to listen to music speaks volumes about who we are, and the way we want the rest of society to see us.
That's why headphones have become so important to us, as they enable us to take control of our individual musical journeys and make it possible for us to listen to what, and who we want to whenever we want to, regardless of where we are in the world.
Wireless headphones give us the freedom to enjoy our favorite artists without being tethered to our smartphones while we're moving through the maelstrom of the working week, exploring our surroundings and getting to where we need to be, while wired headphones allow us to plug straight into a universe of music and drift away to our special places we're relaxing at home.
But how do you choose between them? How do you know if you're a wired or a wireless kind of person?
What if we told you that you didn't have to make that choice? What if we told you that there was a way that you could enjoy the best of both worlds with a single set of headphones? That would be a game-changing moment, wouldn't it?
Well, get ready to up your musical game and change the way you listen to and experience the songs that you love, as we've, following weeks of exhaustive research, compiled a list of eight of the best wired and wireless headphones that you can arm yourself with so that you can lose yourself in your own musical cosmos. It's time to plug in and feel the power of music…
Another of the powerhouse audio brands who have been doing what they do with style and panache for longer than they can probably remember, Philips, has always been at the forefront of pioneering headphone design, which is probably why they smashed their way to the top of our list with their PH805 active noise canceling cans.
Powered by 40mm neodymium acoustic drivers which deliver a crisp, crystal clear sound, the PH805's combine active noise cancellation with Philip's patented awareness mode, so you can shut the world out when you want to, but let it back in, so that you know exactly what's going on around you, whenever you need to.
Philips promises that these headphones will deliver absolutely lossless audio and you won't miss a beat or a note, and you'll hear whatever you're listening to exactly the way that the artist who recorded it intended you to.
And after spending a couple of days with them, we have to admit that Philips is absolutely right and these headphones do exactly what they say they will.
A single two-hour charge translates to twenty-five hours of pure unadulterated musical joy with the ANC (Active Noise Cancellation) on, or thirty hours if you switch it off.
And if you just want to plug straight into the source of all of your musical pleasure, the supplied audio jack will connect your device directly to the headphones without having to even switch the Bluetooth on.
Pros
Awareness Mode - If you want to keep track of who is, and what's going on, around you, the PH805's Awareness mode will let you tune into the outside world without having to abandon your chosen playlist.
ANC - The Active Noise Cancellation technology that's built into these headphones means that you'll hear everything that you're listening to the way that the artist intended you to without interruption.
Price Point - Phillips delivers an incredible amount of audio punching power at a price point that'll put a smile on every music fan's face.
Cons
Comfort - They're not the most comfortable headphones that we've worn, and after a couple of hours our ears started to hurt and we could feel a headache beginning to lurk in the background. They're small dose headphones that need to be used liberally and handled with care.
Who is Audi Technica? We're glad you asked, as we wondered the same thing ourselves a couple of years ago and were a little unsure about whether or not we could put our faith in them to ably guide us down the path to musical perfection.
We needn't have worried, as this Japanese audio specialist has spent the last six decades forging a faultless, innovation-laden course through the word of headphone technology, and this entry into the wired and wireless arena is a breathtaking addition to their audio arsenal.
What makes the MH50's so incredible?
Well, they were designed and created to let the music fan experience the full dynamic sound of the audio professional's world by delivering the sort of clarity, range, and thumping bass that we didn't think it was possible to create at this price point.
And everything about these headphones can be controlled from the ear cups, from the volume to playback and the microphone, it's all available at the touch of a button.
A single charge will provide up to forty hours of wireless freedom, but if you prefer to just sit back, relax and wire yourself directly into your music, the MH50's have got you covered, and the audio line that'll let you jack straight in also provides an additional volume and microphone control.
As we've already said, they're incredibly good at what they do.
Pros
Be Like The Professionals - They were made to be worn for hours at a time, and we have to admit that they are an incredibly comfortable way to listen to your favorite music.
Forty Hours - One charge gives you forty hours of playback time. You can listen to a lot of songs in forty hours. Trust us, we know what we're talking about.
Cons
Charge Time - You might get forty hours of playback time from a full charge, but as that charge will take nearly seven hours, you'll have to wait to listen to your tunes
A Little More - Granted they sound incredible and yes, they're exceptionally comfortable to wear, but for the bank-busting price Audio Technica charges for the MH50's, we'd have expected a little more technology to be packed into these studio-quality cans.
Don't worry if you haven't heard the name AKG thrown around or if you haven't stumbled across them online.
They're not a household name, but the company that owns them is. You might have heard of them. They're called Samsung.
That's right, the global electronic giant that makes everything from televisions to washing machines and refrigerators to smartphones is also the name behind the N60NC's.
Lightweight, comfortable, and designed to be worn on the go, the N60NC's are equipped with active noise cancellation technology so you'll only ever have to hear what you want to when you want to and the outside world, no matter how noisy it gets, won't intrigue on the soundscapes that you'll be able to retreat into with a little help from AKG.
A single charge will power the N60NC's for up to thirty hours with the Bluetooth turned off and the ANC (Active Noise Cancellation) on and fifteen hours if you choose to go wireless, and wherever your mood takes you while fully immersed in your latest musical adventure,
Pros
Comfort Is The Key - Whatever magic Samsung and AKG wove into these headphones when they designed them is absolutely priceless. You could wear them all day and the only reason that you'd know that you were, would be the constant stream of music flowing into your ears and imagination.
We can't remember the last time we wore a pair of headphones that were this comfortable. In fact, the more we think about it, the more certain we are that we've NEVER worn a pair of headphones as comfortable as the N60's are.
Price Point - For a wired and wireless pair of headphones that you can wear all day and every day, the N60's are incredibly well-priced. We're not sure how Samsung can afford to sell them so cheaply, but we're not about to start complaining about it. And we suggest that you don't either.
Cons
Battery Life - Fifteen hours from a full charge? It isn't really a lot and if we're honest, we expected a lot more from AKG and Samsung.
No decent list of audio paraphernalia would be complete without Bowers & Wilkins, the brand that the professionals turn to when they're looking for a way to satisfy their musical itch.
For the last forty years, they've been the name on every audiophile's lip and one of the most prized secrets that every in the know music devotee was determined to keep to themselves.
Unfortunately, thanks to the power, functionality, comfort, and durability of the PX7's that secret has well and truly been let out of the bag.
The PX7's drivers are the largest that Bowers & Wilkins use in their headphones and were tuned by the same audio engineers who built the infamous speakers in Abbey Road Studios, and the noise-canceling technology that they use adapts to your surroundings and adjusts the sound in the headphones accordingly.
Then there's the audio pause function, which automatically pauses a song as soon as you lift the headphones and only starts playing it when you put them back down and the carbon fiber composite that they're built from, which ensures that they're both comfortable and durable, and can and will handle everything that life throws at them, and you.
And finally, there's the Bowers & Wilkin battery life guarantee which delivers exactly what it says it will.
Thirty hours of playback from a single charge, which should take no more than eighty minutes from empty.
And if you don't have eighty minutes to spare before you head out of the door?
A fifteen-minute mains supply session will provide the headphones with enough power to keep your playlist in rotation for seven hours.
Bowers & Wilkins are, to coin an often overused phrase, the best of the best.
Pros
Built To Last - The carbon fiber that Bowers & Wilkins uses to make the PX7's ensures that they're as durable and tough as a Formula One car. They were, and are, built to last.
More Technology Than A Bond Car - There is more technology in every pair of PX7's than there is any car issued to James Bond by Q. And it's probably more reliable than Bond's tech too.
It's All About The Name - Bowers & Wilkins are a name synonymous with reliability, technology, and dependability. The PX7's are the last and only pair of wired and wireless headphones that you'll ever need
Cons
Affordability - It's a good job that they're the only pair of headphones that you'll ever need as they're not exactly cheap and you'll probably never be able to afford another pair of headphones if you do buy them.
Last, but by no means least are the headphones that initially piqued our interest with their futuristic design, but made us stick around thanks to their super-heavy bass response.
Honestly, we don't know a lot about Skullcandy and while we were intending to dive headlong into everything Skull and Candy related that we could find, we got a little waylaid and lost when we became enslaved by the sound the Crusher Evo's created.
They are remarkable. They sound good, they look good, you can adjust the settings and the way they work via the Skullcandy app that you can use to control them from your smartphone, tablet, or laptop and they feel incredible while you're wearing them.
What more could you ask for from headphones? We just wish that they were a little more affordable.
Pros
Full App Control - As well as the usual can-based controls, you can also set the levels and switch between music and microphone on the Skullcandy app. Which is nice.
Forty-Hour Playback - A full charge will give you forty hours of playback time. And yes, we did test that number out and yes we can confirm that it's true.
Cons
We Just Wish…- That they weren't so expensive.
Buyers Guide
Which Pair Of Wired And Wireless Headphones Is Right For Me?
Every pair of headphones on our list will reproduce a glorious world of music and sound in your head as soon as you put them on, but if you're looking to arm yourself with the same headphones that we use… save for a while, take the plunge and choose the Bowers & Wilkins.
It'll be the best audio decision that you'll ever make.
Frequently Asked Questions
What Are Wired And Wireless Headphones?
Wired and wireless headphones can be plugged straight into your stereo, smartphone, tablet or laptop in order to listen to your music, just like a traditional pair of headphones, or they can connect to any Bluetooth enabled device remotely so that you listen to your music without having to be directly connected to the device that's playing it.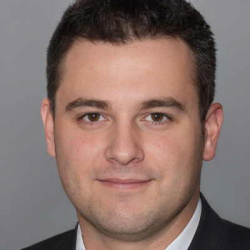 Latest posts by Garrett Jones
(see all)