If you are looking for a smartwatch, the Samsung Gear S3 Frontier is an excellent model. You can get this watch in two forms, namely the Frontier and the Classic.
To help you to determine whether this smartwatch will be suited to you, we have listed the specifications, features, and price of the Samsung Gear S3.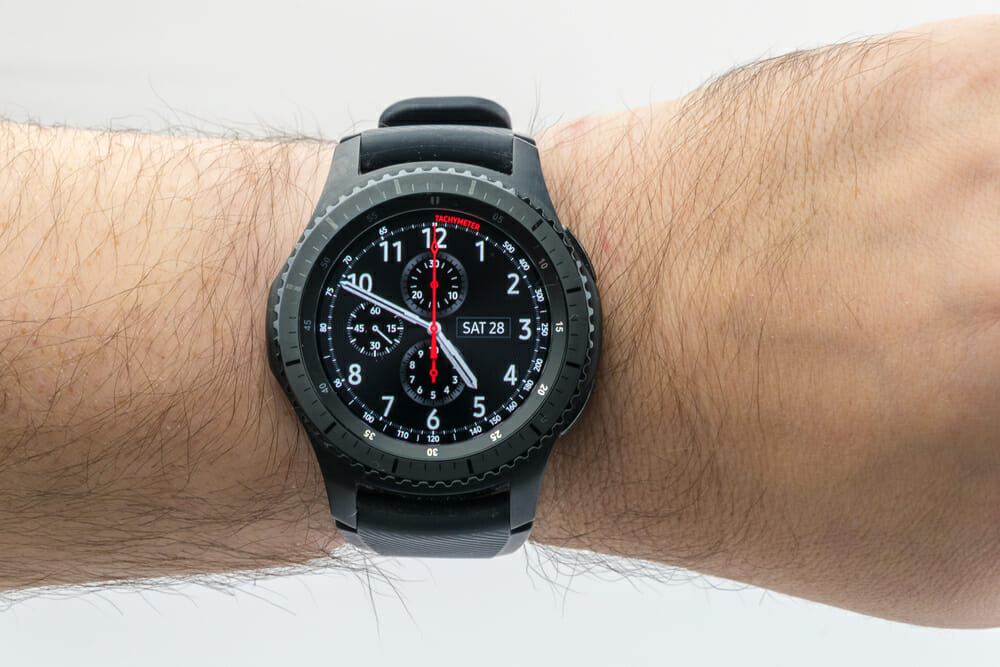 Specifications
In terms of the specifications, the display of this watch is 1.3". Its pixels are 360 x 360. It also has 4GB of internal memory. The watch face is made from glass while the watch itself is made from a stainless steel frame.
The strap is 22mm and comes in a variety of color options and styles. This enables you to find the one that works best for you. You can replace this watch strap easily if you want.
Features
Some of the main features of this watch include:
Exercise tracking
Voice-controlled reminders
Bluetooth connection
SOS mode
Like other smartwatches, this model has a lot of nifty features. Aside from more basic yet essential features that are included in most smartwatches, such as telling the time and making calls, the Samsung Gear S3 Frontier also has many other complex features.
One amazing feature is that this watch can keep a comprehensive track of your fitness. When connected to the S Health app, your smartwatch can give you fitness updates.
This can include taking account of the number of steps you take. Moreover, it can count the number of squats or lunges that you do.
This will be really beneficial for people who struggle to motivate themselves to do exercise. The reason for this is that this feature will inform you of the amount of progress you have made.
Though the watch is waterproof, it is not recommended that you use it to keep a track of your swimming. Doing so may damage your watch. Overall, this feature can greatly enhance your exercise routine.
Another noteworthy feature of the smartwatch is the fact that you can turn or rotate the bezel. This bezel is simple to use yet gives you a lot of control.
In fact, this bezel can be used to browse through emails, respond to phone calls, alter the volume, or look through your apps.
Samsung also grants users the ability to alter the watch face. Consequently, you can find a style that works best for you. This customization includes altering the font or color of the watch face. This can simply be done by moving the bezel.
If you lead a busy lifestyle, one feature that will be of interest to you is voice-controlled reminders. Using this feature, you will be able to set reminders. This will be beneficial to you if you have a lot of appointments, meetings, or errands.
If you are someone who uses a lot of apps, this may be the watch for you. There are over 10,000 apps to choose from and download onto your watch. These include popular and well-known apps, such as Spotify.
This model also has GPS built-in. If you are in an unfortunate emergency, you can turn on the SOS mode. Using GPS, this setting will contact a friend or family member that you have assigned.
If you are a lover of music, you will likely be interested in the fact that this smartwatch can use Bluetooth to play your music. This will allow you to play music without the additional nuisance of taking your phone with you.
Finally, unlike other watches, the Samsung Gear S3 Frontier has an "always-on" setting. This means that even when the watch face is not in use, it will still have the appearance of the watch. In this mode, the watch will simply tell you the time.
This will allow it to look more natural and akin to a standard watch. Of course, this feature will use up a lot of battery life and so will not be ideal for preserving power.
Price
The exact price of this smartwatch will depend on the retailer that you buy it from. These prices are subject to change, meaning that we can not definitively say how much the watch will cost. However, it is likely to cost between $200 and $300.
If you are lucky, you might be able to find a seller who will offer the smartwatch at below $200. Second-hand models may be available for cheaper prices. This will allow you to access this sensational smartwatch for a reduced price.
Frequently Asked Questions
How Old Is The Samsung Gear S3 Frontier?
This smartwatch from Samsung originally came out in November 2016. As a result, it is not very old but there are newer models available.
What Is The Difference Between The Samsung Gear S3 Frontier And Classic?
There are two different variants of this watch: the Frontier and the Classic. One of the main differences between them is their appearances. While the Frontier looks rugged while the classic has a more formal and traditional look.
The buttons on the Frontier are more substantial. Because of this, it is also slightly heavier. Aside from this, their features are more or less the same. This gives you two different options to choose between.
Do You Need A SIM Card For The Samsung Gear S3 Frontier?
No, this smartwatch already has an eSIM installed. This is already included, meaning that you do not have to go to the effort of installing a SIM card yourself.
How Do You Charge The Samsung Gear S3 Frontier?
A charging pod will come with your Samsung smartwatch. You will need to insert the wire into the USB port of the charger dock. You will then need to plug this dock into a power outlet.
Place your smartwatch onto the charging dock. Once you do this, the amount of charge you have will be displayed on the screen.
Final Thoughts
Though it might seem a little expensive, the Samsung Gear S3 Frontier is worth the cost. It has some really desirable features that make it stand out from the competition. Essentially, you are paying for these multiple additional features.
Because of this, they make great birthday or Christmas gifts for tech-savvy family members, friends, or spouses.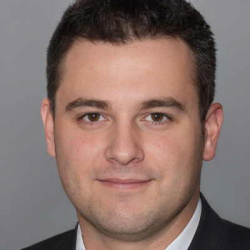 Latest posts by Garrett Jones
(see all)